Trusted Treatment
The most common type of braces at Parks, Schmit, & Fuller Orthodontics are metal braces. This option offers straight smiles for patients of all ages around Cedar Rapids and Marion and the surrounding areas.
3M Brackets
Parks, Schmit, & Fuller Orthodontics uses 3M brackets, which are made from a durable mix of stainless steel, nickel, and other metals.
Brackets have little hooks and doors where our doctors thread a wire. We secure the bracket by closing the door or by placing an elastic over the top of the wire.
Glue
This is what our team will use to attach the brackets to your teeth. It's common to attach the bracket directly to the tooth with glue.
Wire
This thin piece of metal runs from one bracket to another. Our doctors will change the wire's shape and curvature to move your teeth in the right direction.
The wire will attach all your bottom or upper teeth together often. We may occasionally cut the wire if connecting a few teeth is better for your treatment plan.
Elastics
If you need bite correction, elastics are important. They're usually strung between an upper bracket hook and a lower bracket hook.
This pulls your upper jaw backward to correct an overbite, or the lower jaw back to correct an underbite. Rubber bands are for many different situations, especially when we want to put extra pressure on the teeth or jaws.
Orthodontic Bands
We cement these stainless steel rings to your teeth using dental bonding agents. These bands secure the braces on your teeth!
Spacers
If we need to make space between your teeth, we put spacers on your treatment. We use these small elastic "donuts" or rings before we place your bands. You might also hear them called "separators".
Elastic Ties/O-Rings/Ligatures/Colors
Dr. Parks, Dr. Schmit, and Dr. Fuller use these tiny rubber rings or bands to attach the archwire to the brackets. Elastics are less rigid than spacers and you can get them in dozens of colors.
We know you want your time in braces to be as fast and comfortable as possible. At Parks, Schmit, & Fuller Orthodontics, we help you do just that! Indirect bonding helps us install braces quicker and ensures proper bracket placement on each tooth. This means less time in the orthodontic chair when it's time to get your braces.
The process of indirect bonding starts with a mold of your teeth. This takes just a few minutes and provides a replica of your mouth. Next, we'll create a 1:1 model of your teeth before your doctor meticulously places each bracket on the teeth to ensure the most effective movement.
Finally, we'll create a customized tray that helps us place the brackets exactly as directed by your doctor. Once your custom tray is finished, your braces are ready to be installed! You'll return to our office to have your custom tray fitted and your braces attached.
Indirect bonding allows your orthodontist to place all of the brackets simultaneously, taking the total time of getting braces applied from 40-60 minutes to just 15-25!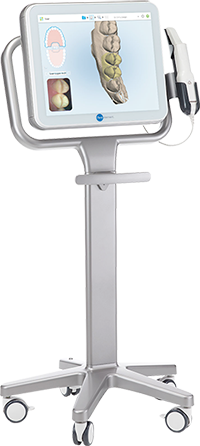 Make a Great First Impression
At Parks, Schmit & Fuller Orthodontics, you and your child don't need to dread impressions with messy putty, because we use a digital scanner—the iTero Element Intraoral Scanner.
With our iTero Element Scanner, we can digitally capture a detailed 3D model of your teeth and gums. Not only is an iTero Element digital scan far more comfortable than the old putty-based impressions, but it's faster and provides more precise images.
Goodbye to Goop-filled Impression Trays
No goop or gag to worry about
Fast, accurate scan for superior diagnostics
Ideal for all types of braces, including Invisalign® clear aligners and retainers
See a simulation of your potential post-treatment smile with the Invisalign Outcome Simulator (IOSim)
During the scanning process, your orthodontist will use the iTero Element Scanner's wand to capture images of your teeth and gum tissue.
The iTero Element Scanner will give us a 3D model of your mouth that we can use with all orthodontic services, including the Invisalign Outcome Simulator, to show you what your new smile might look like.